Sprinting Psycho



Stats

Maximum Hit Points
N/A
Maximum Psychic Points
N/A
Offense
N/A
Defense
N/A
Rewards
Experience
N/A
Wealth
N/A
The Sprinting Psycho is an enemy in Mother 4. He was revealed in a photo released on the Mother 4 website, and shown off further in the first teaser trailer.[1]
Appearance
Edit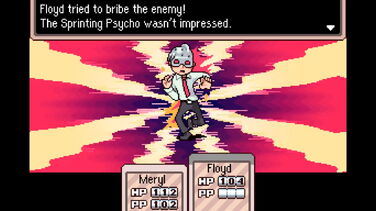 The Sprinting Psycho, for the most part, appears to be a normal man. He wears formal clothing, with a white shirt, black pants, and a red tie. The only abnormal details about him are the metal, robotic helmet on his temple and the jet of flames behind him.
The Sprinting Psycho bears some resemblance to an EarthBound enemy, the Psychic Psycho.
References
Edit